Visit these Virginia wineries and wine tour groups that partner with Wine Trail Traveler.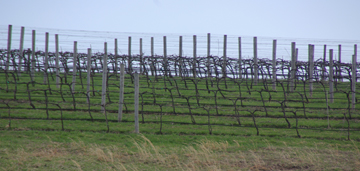 If you are visiting Massanutten Resort, live near Harrisonburg, Virginia or looking for a Virginia day trip, consider a visit to CrossKeys Vineyards. The winery is only minutes of I-81. If you plan to visit frequently, consider joining the Key Club Membership that provides a 20 percent discount.
The center of the building is for events. The area can be arranged in a number of ways to accommodate a variety of events. Weddings, business conferences and wine dinners can be scheduled here.
CrossKeys Vineyards owners, Bob and Nikoo Bakhtiar, named the winery after a nearby tavern that was built in 1802 and torn down in 2002. Some of the articts from the old tavern are in the Cross Keys Vineyards tasting room. The symbolism of the upright cross keys is a sign of hospitality. Visitors at the winery will be welcomed with open arms.
The tasting room is located on the right side of a large U-shaped cility with a terrace on each end. Each terrace has an outdoor fireplace and open arches. One can view vineyards and mountains from these areas. A large, elegant courtyard located between the two terraces is inviting. The tasting room is located beyond a terrace. Near the tasting counter is unusual seating with high floral cushioned backs and cushioned seats. Several small tables are located in this area. Consider purchasing a glass of wine and enjoying it here or on a terrace.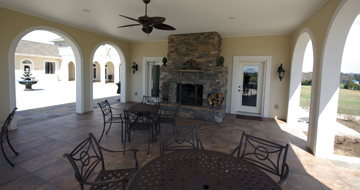 Nikoo Bakhtiar grew up in California. The Bakhtiars began searching for land to retire on and purchased the current property in 2001. Since the Bakhtiars enjoyed wine and wanted to be involved in rming they chose to have vineyards and a winery.
Chardonnay 2008 was produced in stainless steel and French oak. The result was an aroma with apple, pear and oak nuances. The taste also had fruit notes especially apple and pear. The wine finished crisp with hints of pear and vanilla. Suggested pairings included seafood and roasted poultry. Joy White 2009 was produced with Vidal Blanc. The aroma and taste had peach notes. The peach lingered on the finish. Pair this wine with spicy Asian or Middle Eastern foods.
Pinot Noir 2008 was light bodied with an aroma and taste of smoke and light red fruit nuances. The crisp finish offered notes of cherry and violets. Meritage 2007 was a blend of Merlot, Petit Verdot and Cabernet Franc. The color was a dark ruby. The aroma and taste offered dark fruit notes especially black cherry and plum. The crisp finish was fruity with tannins. Petit Verdot 2008 was a dark purple with an aroma and taste of blackberries. There were tannins on the finish. Several foods were suggested for this pairing including red meat, blue cheese and chocolate. Tavern 2007 produced with Touriga Nacional grapes offered notes of black cherries and orange. Suggested pairings were chocolate, dried fruit or nuts.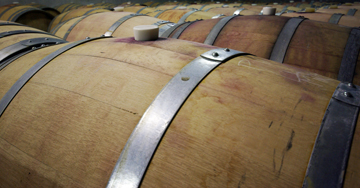 The winery is located beneath the tasting room and event rooms. Stainless steel tanks and wine equipment are housed in one large area. The barrel room is in a temperature and humidity controlled room. The barrels are not stacked and are arranged in rows. The winery has space to grow over the years.
Summary: CrossKeys Vineyards offers a sophisticated tasting room for wine enthusiasts. The winery is about eight miles from Exit 240 on Interstate 81. The winery is located near Massanutten, A Four Seasons Resort in Shenandoah Valley, Virginia.
The vineyard was started in 2002 with 18 to 20 acres of Cabernet Franc, Petit Verdot, Chambourcin, Chardonnay, Merlot and Pinot Noir. The first vintage was 2006. Recently the winery produced 2,500 cases and for 2010 the owners would like to produce 3,500 cases.